ESD products are fully integrated; share the same Microsoft SQL Sever database, easy to use, secure and stable. Developed using Microsoft's .NET technology, our solutions are based on ESD's long history in the education market. ESD has developed and supported the products for over 25 years. We understand the education market and uses this knowledge to develop solutions that best meet our client's needs.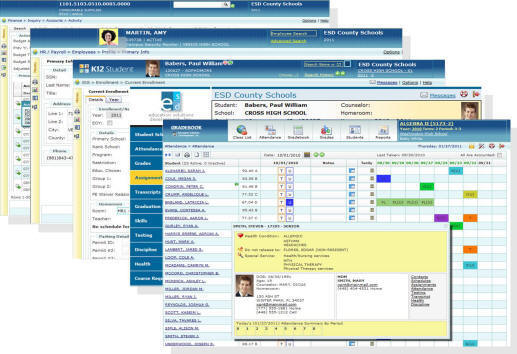 Our Student Information solution is a comprehensive student information system that combines a district wide record management system with an easy to use data entry point for teachers, counselors and principals. It allows all stakeholders access to information. Students, teachers, parents and administrators can access data in real-time to make better decision for the student, school and district.

Whether taking attendance, producing a transcript or checking a budget allocation, the system provides a common user-friendly interface between all modules. Our adherences to standards produce a more reliable system with fewer bugs and happier customers. ESD values our client's knowledge and partner's with them to produce software that meets the needs of an ever-changing market. Parents, board members, administrators and teachers demand useful data to make informed decisions.