The demands for information today require that your core systems provide you with the flexibility and accessibility above and beyond the hardwired systems of past decades. Proprietary, Batch and Silos have been replaced with Open, Interactive and Interoperability. And is your district ready for the next technology cycle of Clouds, Apps and Social Networking? And these are just the technology demands.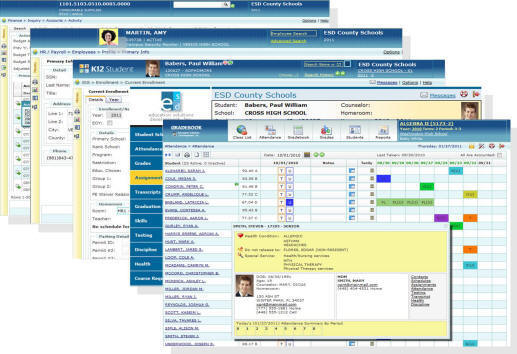 Add to this the latest governmental requirements for calculating performance base pay increases, instructional improvement systems, and the prospect of moving to a transactional state reporting process. Can your district afford to hold on to its antiquated systems that confine the data that is at the core of where your district needs to be?
Whether it's putting a student's critical information at a teacher's fingertips, providing a parent with a direct communication channel to the school, or giving an employee a single location to find all of his or her employment information, ESD's full suite of integrated applications enable your district to address today's data management challenges while positioning yourself to prepare for tomorrow's.